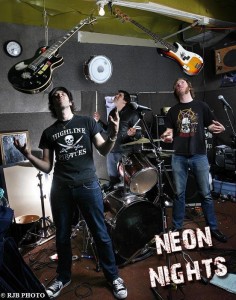 Seattle trio Neon Nights pulls off the sweet trick of simultaneously conjuring the sounds of a Sunset Strip rock den and a Lower East Side NYC hardcore crust-hole, both circa 1987. The former comes courtesy of rippin' riffs loud, thick, dirty, and devil-horned, and solos nimble and flashy guitar work that reeks beautifully of Schlitz, burning rubber, Ace Frehley sweat, and raw groupie sex. The latter comes mainly from front man Lou Molitch's unhinged shrieks. A hair-on-fire, I'm being chased by a pack of demon hounds delivery that's reminiscent of another Lou (Koller, of Sick of it All), cut with a smidgen of Sam Kinison. And Neon Nights hammers its crowds with tunes like "Born to Die Hard" ("Knowin' nothin' but to keep keepin' on/For the wine, the women, and the song/Gonna give it all I got, all I got 'til it's gone") and "Party Song" ("It's a party, let's party!/Hey, hey, hey, hey…yeaaaaahhhhhhhh!!!!") with nary a trace of irony or calculated retro-ism. These guys really seem to live it. You may want to, as well.
Stay Good, Stay Gold, Stay High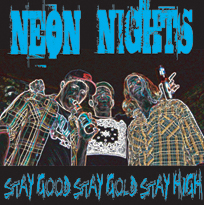 Neon Nights new album "Stay Good, Stay Gold, Stay High" will certainly melt your face off! Nine brand new songs continue where this trio left off.
Audio Samples
Neon Nights

Neon Nights first album with Rockin' Stan is a barn burner!
Audio Samples